Source code and metadata viewport

You can open the source code and metadata viewport by the following actions [Source code] –› [Open] and [Metadata] –› [Open], respectively. These viewports also can be opened from item designers.
Source code viewport (Figure 1) displays schema source code.
Fig. 1. — Source code viewport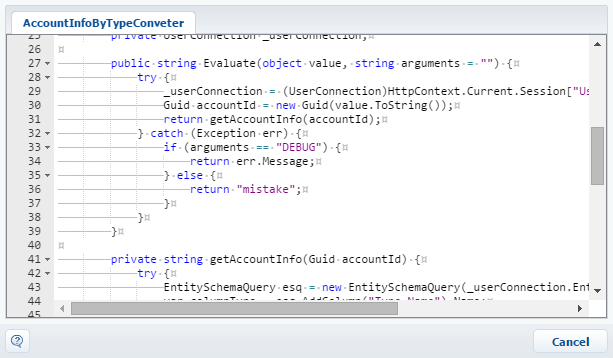 The source code of the schema is generated by the system automatically and can be edited manually.
The metadata viewport (figure 2) is designed for viewing and manual editing of metadata of selected schemas.
Fig. 2. — Metadata viewport, tab [Metadata]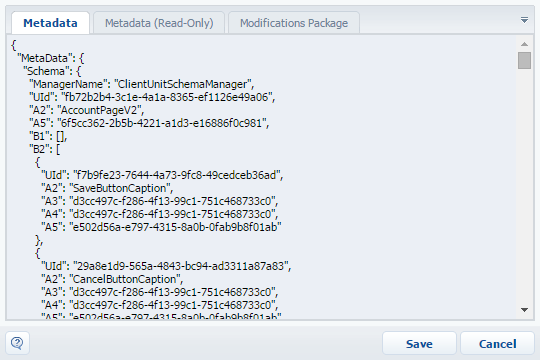 The [Metadata] tab shows metadata in their initial view. Use this tab in order to edit metadata manually.
NOTE
The system generates metadata automatically upon saving schemas and it is not recommended to edit them manually. Schema with incorrectly saved metadata can't be opened for editing in the designer unless metadata errors are corrected.
The [Metadata (Read)] (Figure 3) displays data that is similar to that displayed by the [Metadata] tab, but in a form suitable for reading. Internal identifiers (for example, "A2") are replaced with actual values of items, specified in the [Name] property field (for example, "AccountName"). This tab can be used for manual editing of metadata.
Fig. 3. — Metadata viewport, tab [Metadata (Read-Only)]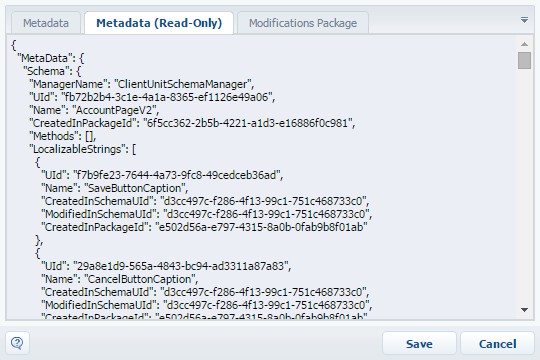 The [Modifications Package] (Figure 4) shows the list of differences in metadata between the current schema and its parent schema.
Fig. 4. — Metadata viewpoint, tab [Modifications Package]