Bpm'online sales
Pharma and Field sales
A new [Cyclic tasks] section automates planning of visits to physicians, pharmacies (Pharma) and accounts (Field sales). New features are:
A cyclic task calculation action is now available on the cyclic task page, enabling you to calculate the number of available visits.

You can now maintain a separate work hour calendar for the system users. Bpm'online Pharma additionally features physician calendars.

Bpm'online automatically plans visits according to the calendars of physicians and pharmacy reps (Pharma) and sales reps (Field sales).

If a manually created activity matches the parameters of a cyclic task, it will be automatically linked to that task.  

Bpm'online marketing
The [Licenses] tab in the [Dashboards] section has been fixed. The number of displayed licenses now takes into account changes made in previous bpm'online versions. The system determines which type of licenses you use and displays their number on the dashboard.  

Bpm'online service
The text of automatic case notifications is now displayed in paragraphs.   

You can now immediately close reopened cases after receiving confirmation from the customer. If the case is not evaluated yet, the customer will receive the evaluation survey email.  

Customers are now able to add detailed case feedback on the customer portal. The customers will know that their feedback is heard, while the helpdesk employees will be able to identify problem cases and use the feedback to improve the service process. To leave case feedback, customers need to click the complaint button and enter their feedback in the opened window. You can toggle this function on and off.  

Bpm'online now checks for employees' emails sent to the support mailbox. Such emails are flagged as outgoing upon synchronization of personal mailboxes of the support staff. Cases are now created based on all emails sent to the support service, regardless of whether the emails are synchronized or not.

The text in the [Description] field of cases created based on emails is now split into paragraphs.

Now you can set up a delay before sending automatic case notifications. This will enable you to send feedback forms to the customers after they had a chance to try the case solution.    

When creating cases based on the incoming emails, you can now enable automatic adding of new contacts if the case contact could not be found in the system. A new system setting enables toggling this function on and off.  

The new field for entering case solutions has been added in bpm'online customer center.  

Customer feedback received from the customer portal now affects case status. If a customer leaves negative feedback, the case will reopen automatically. If the customer leaves positive feedback, the case is automatically closed.  

Bpmonline studio
We have developed a new bpm'online product. Bpm'online studio has the following features:
Business process management.

Dynamic case management.

System designer.

Base system sections: [Contacts], [Accounts] and [Activities].
Bpm'online studio is designed for businesses who need a flexible configuration platform for creating custom solutions.

Base interface and system capabilities
Global search
We have developed a new search feature.
Bpm'online searches in all sections, without the need to select a section before searching.

Bpm'online searches in all fields (i.e., not only by account name, but also by its alternative names).

The command line will also search in the custom sections and lookup fields.

Accounts and contacts are searched by their additional communication options, addresses and banking details.

You can also look for file attachments and links by using their names or notes as you search.

The global search feature will take morphology and typos into account (English version only).

To run a global search, all you need to do is enter the searched text. All matching data will show up in the search results. Forget about adding the "%" character to your strings! For better results, enter several words that might be relevant to your search, for example: "James Rodrick CEO Axiom".

Searched text is highlighted in the search results.

The search results are sorted by their relevancy. If the global search is run from a section, the list of search results will show that section's results first and then the other results. For example, if you search something from the [Contacts] section, all found contacts will be at the top of the search results list.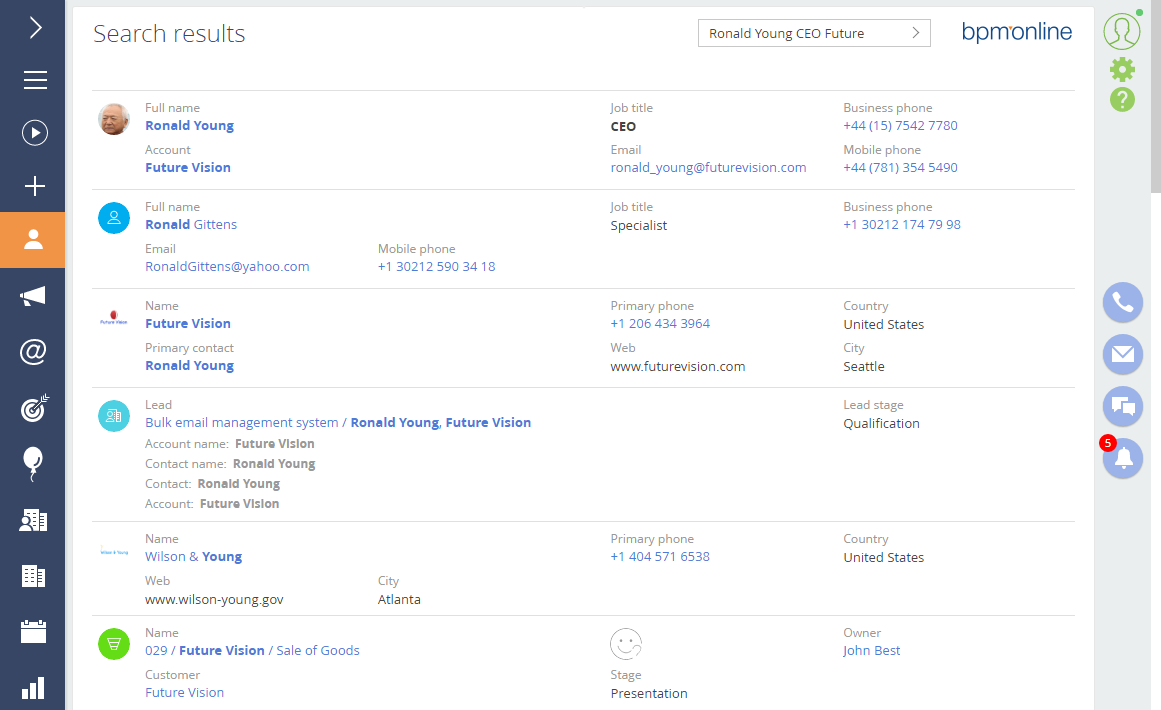 The [Employees] section
We have added a new [Employees] section where you can maintain comprehensive information about the employee's career movements within the company, probation period data, and reason for career changes; create employee onboarding plans and other HR activities.
Employees are created based on contacts via a pop-up summary or a record edit page.

The employee page contains all relevant information from the corresponding contact record, such as communication options, addresses, noteworthy events and career information.

If an employee is also one of the bpm'online users, the employee page will contain information on the employee's access permissions, organizational and functional roles and user activity log.

The dashboards in the [Employees] section show dynamics of hiring and dismissal of employees, reasons for leaving the company and other information for HR analysis.  
Filters and folders
The folders that have been added to favorites are now sorted alphabetically.

Quick filter for a selected folder now works correctly.  
Working with the system
Data with special characters, such as Chinese or Japanese hieroglyphs, can now be exported to Excel.

The error which sometimes occurred when the task start date or time was changed has been fixed.  

Customer database management tools
Bpm'online can now enrich contact information using data from incoming emails. The new feature helps keeping your contact information up to date and enables adding new contacts to your database with just a few clicks. Bpm'online automatically searches text of incoming emails for any new information. If such information has been found, you can choose whether to update an existing contact profile or create a new contact.  

The [Full name] field will no longer contain double spaces if the [First name], [Last name] or [Middle name] fields are not populated.

Saving a contact record will no longer display an error if the communication option, [Email] or [Primary phone] fields were made required in the section wizard.  

Enterprise social network
If your feed post or comment was not saved for some reason, the system lets you submit the post again.  

Mobile application
Mobile app users can now view the [Dashboards] section. The analytics are displayed in the mobile app when the Internet connection is available regardless of the application mode (offline or online).

Integrations
Working with emails
You can now set up email signatures in your mailbox settings. You can format text and add images to your signature. The system will automatically add the signature when you send emails from the action panel or communication panel.  
Excel data import
Large values are now imported correctly if they are passed to the imported Excel table from another table. Previously, such values were displayed in exponential form.  

Business processes
Business process versions
BPMN business processes now support different versions of the same process.
You can now create a new version of an existing business process.

When saving a business process, you can now choose to save changes as a new version of the process or modify the current version.

You can easily switch between different business process versions. Choose which of the existing process versions will take effect for the users at any time.

All launched processes will keep running according to the schema version they were launched with.

Dynamic case management tools
You can now create cases in all system sections, including new custom sections.

Cases can now be managed in the section wizard. A new section wizard step enables you to view the list of cases for the current section and set up the case parameters. You can activate or deactivate cases, set up case launch conditions, and add new cases.  

Multiple cases can now be set up in a section. The applicable case is determined by the value in one of the section's columns. For example, different DCM cases can be run for opportunities of different categories.

You can now specify sequence of steps for a case stage: immediately after changing the stage, or after certain other steps have been completed.  

User customization tools
Fixed the error that appeared if the chart values were sorted by a series selection result or by date and time.
Business rules
You can now set up business rules for any fields in the system. The section wizard now has a new "Business rules" step, where you can set up the following business rules:
Make fields required under specific conditions.

Display or hide fields under specific conditions.

Make fields editable or locked under specific conditions.

Filter values in lookup fields under specific conditions.
All existing hard-coded business rules will be converted automatically to the new user-customizable format.  
Development tools
Support of third-party tools for bpm'online configuration
You can now export packages to the file system and import these packages back to bpm'online. Benefits include:
Professional editor and IDE support.

Support of all version control systems.

Tracking and merging of changes using specialized tools.

Migrating the developed packages between the Dev environments simply by copying the packages or using custom scripts.
Making changes in configurations becomes faster as a result.
Package installation UI
Packages can now be uploaded and installed directly in the bpm'online interface.