The Agent desktop section is designed to facilitate the work of contact centers and helpdesk agents. Use the agent desktop  to manage cases in a single window with the help of out-of-the-box best practice processes, get instant access to customer's profile, and improve customer experience.
Using the agent desktop an agent can quickly process tickets in the omnichannel mode, manage incoming and outgoing calls and work with other queue items. In the agent desktop the employee can read the messages posted on the feed and analytical KPI dashboards of a single employee or the whole team are available.
Note
To allow the employees to receive incoming calls from the agent desktop, set up a connection between bpm'online and your phone provider. Read more >>> 
The [Agent desktop] (Fig. 1) section consists of the following areas: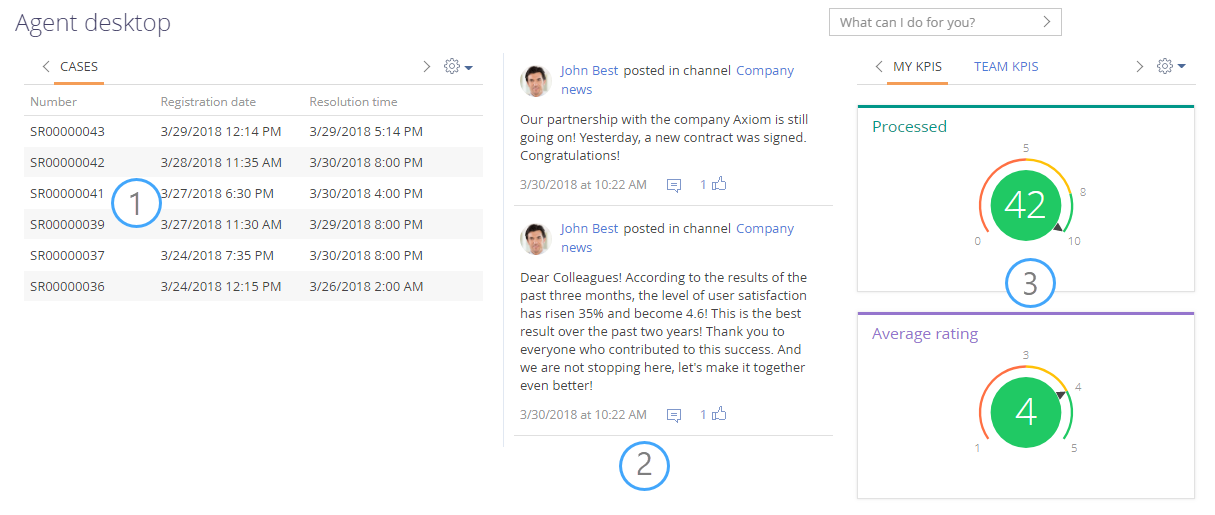 The working area of contact center agent or helpdesk agent on the agent desktop is a number of tabs with the records that are displayed in the agent desktop according to the conditions of pre-configured queues.
The agent desktop tabs are created automatically, based on the queue teams of which the current agent is a member. Each agent desktop tab corresponds to a system object regardless of the number of the configured queues. For example, all records coming from the "Case"type will be displayed in the [Cases] tab of theagent desktop.
By default, the [Cases] tab displays incidents, service requests, claims and complaints, that come from the [Cases to be processed] queue. These are unresolved requests.
Note
You can set up custom agent desktop queues in the [Queues] section.
Note
Use the [Agent desktop queues upload interval] system setting to change the update cycle for agent desktop records.
Use feed channel for prompt notification of the helpdesk agents or agents about noteworthy events of the company. The agent desktop feed displays posts and comments from a specific feed channel. Use the [Agent desktop - Channel] system setting to select this channel.
The agent desktop dashboard displays thecontact center KPI.  The agent desktop analytics consists of two tabs. One tab displays the  agent's personal achievements and the other tab displays the team's achievements. These dashboards display summary data for the current day.
Contents
•Managing records displayed in the agent desktop via regular and blind queues
•Sorting records on the agent desktop
•Processing cases from a regular queue in the agent desktop.
•Processing cases from a blind queue in the agent desktop
•How to process cases from incoming calls on the agent desktop
•How to create and populate a dynamic queue
•How to create and populate a static queue
•How to set up a regular or a blind queue on the agent desktop
•How to sort queue elements on the agent desktop by the object columns