Creatio Analyst, Creatio Product Expert
Guided learning
Marketing Creatio functionality for end-users
August 8-9, 2022 | 8:00 am utc+1
$200 | 2 sessions | 4 hours
About course
Who should take this course
This training program is meant for starting end-users of Creatio marketing, as well as clients and partners of Creatio who require a powerful and convenient tool to plan and conduct marketing campaigns and bulk emails, as well as lead generation and management.
What to expect
Participants will obtain knowledge of the Creatio marketing tools present in the marketing product: lead management, the marketing calendar and campaign systems, as well as the Creatio bulk email functionality and marketing events. 
Course duration & format
The training takes place over 2 days with a total of 4 hours. 

Prework
We recommend to prepare for the training with these free e-learning courses.
DAY 1
CONTACT BASE SEGMENTATION & BULK EMAILS
360 CLIENT PORTRAIT: MANAGING CLIENT DATA IN THE "CONTACTS" SECTION
20 min
• Entering contact information into the system (field and field group setup)
• Entering and storing connected data
CONTACT BASE SEGMENTATION AND SEARCH AND FILTRATION OPTIONS IN THE SYSTEM
40 min
• Filtration types: Quick, Standard, Advanced
• Contact base segmentation with the help of preconfigured dynamic folders
BULK EMAIL FUNCTIONALITY
1 hour
• Creatio marketing Integration and license management
• Adding new bulk emails, template creation in the content designer
• Preparing and adding an audience to a bulk email from the contact base
• Parameter setup for mass emails and adding UTM tracking codes to track website activity
DAY 2
Marketing campaigns & Lead management
• Planning and event creation, adding event teams and budgets
• Adding a target audience and modifying event participant responses
• Organizing team roles for preparing and holding events. Activity history
• How to create a landing page on your site: general recommendations
• How to set up lead generation from landing pages to Creatio and default lead field values
MARKETING CAMPAIGN MANAGEMENT
1 hour
• Modeling communication chains and campaign auditoriums in the campaign designer
• Modeling inbound and outbound campaigns
• Starting a campaign and tracking campaign progress
• Ways to fill your lead database
• Registration and data input for leads
• Entering lead requirements
• Managing lead sources and channels. Other lead characteristics
• Lead stage management and understanding the out-of-the-bus "Lead management" business process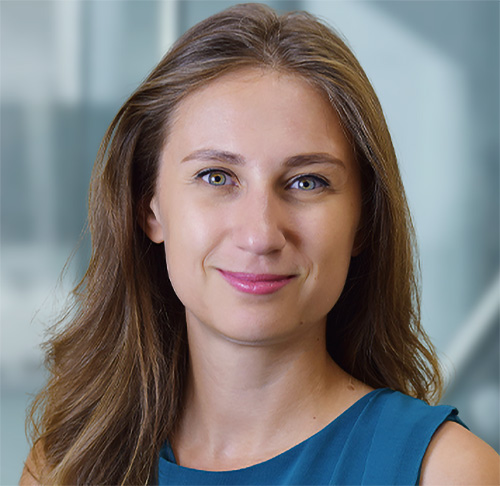 Technical Trainer, Creatio
Professional trainer experienced in low-code application development.  Her professional background is in account management, marketing and sales.
Format:
2 sessions | 4 hours
Time:
8:00 am - 10:00 am UTC+1
Upcoming session:
August 8-9