Studio Creatio, free edition (Studio Creatio free) is a collaborative business process modeling tool. Business processes in Studio Creatio free correspond to the BPMN 2.0 specification, which is easily understandable by all business users, from analysts to developers.
Studio Creatio, free edition basics 
Studio Creatio free can help you with the following tasks:
Accelerate business process modeling.

Build process diagrams using simple visual tools and save them in the process library. A flexible structure, convenient navigation, and a single control environment will help to organize the business processes of the company swiftly and accounting for all requirements.

Standardize your business process management.

The multifunction process designer will ensure compliance with the BPMN 2.0 specification. This makes it possible to build processes that are understandable by customers, business analysts, developers, and end users. Meanwhile,

*.bpmn

support enables import and export to share business processes with other applications.

Arrange collaborative process modeling.

Involve your coworkers or outside experts, edit business processes along with them in real-time, and share links to the processes for remote viewing and commenting.

Facilitate documenting business processes.

Enter information and add all necessary explanations to the business process as you build the diagram. Creatio enables users to download the description of the process as a

*.pdf

file to have comprehensive documentation on the process for further use outside Studio Creatio free.
Studio Creatio free provides the following tools:
Process designer. The process designer with BPMN 2.0 support provides universal tools for designing business processes of any complexity using a visual designer.
Process library. All business processes of the company are stored in the process library, which enables you to add new business processes to your library by creating or importing them, organize business processes in a hierarchical structure, and searching folders and processes.
Studio Creatio, free edition operation schema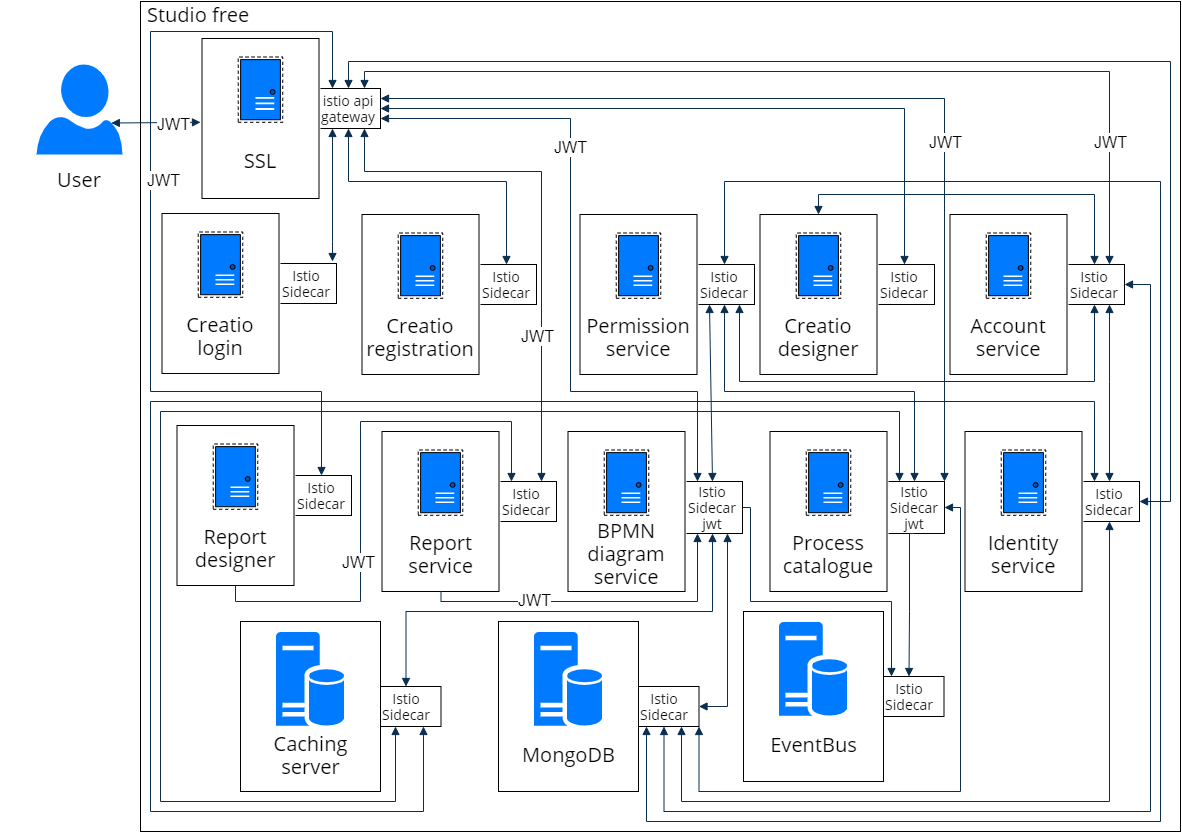 Studio Creatio, free edition compatibility with Creatio products 
Studio Creatio free is available as a separate product and can exchange data with all Creatio products utilizing business process export (*.bpmn, *.svg, and *.png) and import (*.bpmn).
Studio Creatio, free edition deployment options 
Studio Creatio free is only available in Creatio's cloud, lacks an open API, and cannot be customized by customers.